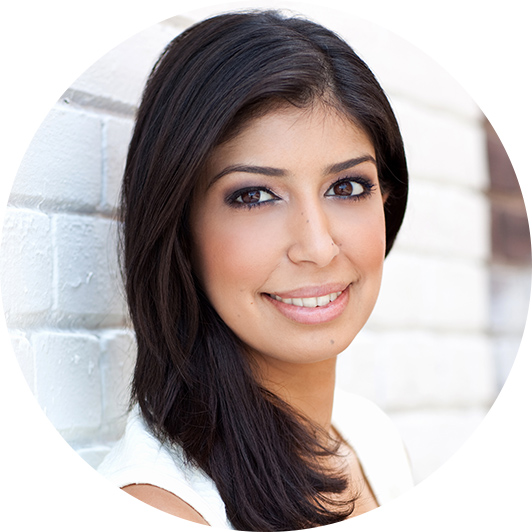 Pooja Handa
Anchor, CP24/Co-Host, CP24 BREAKFAST
PANELIST FOR:
4.40pm – 5.20pm: Panel Discussion 2: "How Style Influences Identity"
Moderated by Sonia Jhas
TESTIMONIAL
"I'm thrilled to be a part of The ANOKHI PRESTIGE Experience with the #ThisIsMyStyle event.  It's a great opportunity to connect with the community all while being engaged in lifestyle content that is a part of our everyday lives. I look forward to sharing how style influences my identity as a TV personality."
BIO
Pooja Handa has been a CP24 anchor since 2008, and in April 2011 she became a co-host of CP24 BREAKFAST WEEKEND, before moving to the weekday edition of CP24 BREAKFAST in 2014. Torontonians have come to know Handa as one of the faces greeting them every morning with news that will help them start their day. Handa is born a storyteller, using wit and humour to engage viewers.
With CP24, Handa has covered everything from politics to entertainment, including the annual Toronto International Film Festival and the 40th Anniversary of THE JUNO AWARDS in Toronto. She is also a regular contributor to CP24's coverage of major events taking place in Toronto including hosting CP24's annual Pride Parade broadcast, WorldPride 2014, and CP24's coverage of the Scotiabank Caribbean Carnival grand parade. She has also been a regular judge for the city's annual St. Patrick's Day parade.
Before joining CP24, Handa worked as a traffic reporter and entertainment host for Global Morning News in Toronto, where she created and hosted a unique entertainment segment called the PH FACTOR (Pooja Handa Factor).
Handa graduated from Cawthra Park Secondary School, an arts-focused high school in Mississauga, Ontario, majoring in drama. She later moved to New York City to study at the American Academy of Dramatic Arts before returning to the GTA to pursue a career in broadcasting. Handa holds a Bachelor of Arts degree in Women's Studies from York University and a diploma in Broadcast Journalism from Seneca College.
Handa is passionate about charity work and helping others. Born and raised in the GTA, Handa makes it a priority to give back to the community, and continues to be active by hosting and supporting charitable and community events throughout the city.  She also works closely with the Halton Industry Education Council mentoring young girls in their career paths. When Handa is not working, she loves spending time with her husband and family.
PHOTO CREDIT
Courtesy of Pooja Handa