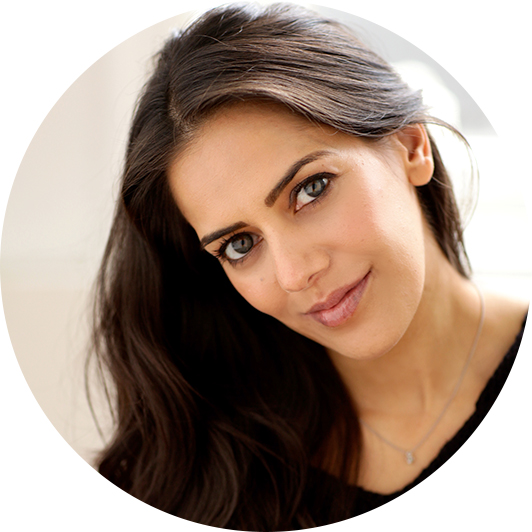 Sheetal Sheth
Award-Winning Actress, Author, Speaker
Celebrity Fireside Chat
TESTIMONIAL
"I could not be more thrilled to be invited to this flagship ANOKHI event. I've known Raj forever and she has always been so unconditionally supportive. Her special touch always makes for a fabulous time and incredible community. I am so excited to share Always Anjali with Toronto in this way."
BIO
Sheetal Sheth is an acclaimed actress known for her provocative performances in a wide range of memorable roles on film and television. She has starred in over 18 feature films and many TV shows and has earned a loyal following. Perhaps best known to mainstream film audiences for starring opposite Albert Brooks in Warner Bros' LOOKING FOR COMEDY IN THE MUSLIM WORLD, Sheetal has become a favorite in the independent film world. She won 3 Best Actress nods in the festival circuit for THE WORLD UNSEEN and 1 for her role in WINGS OF HOPE, with the former premiering at the Toronto International Film Festival and then going on to win 11 SAFTA's (South African equiv to Oscars). In 2012, fans voted her 'Favorite Movie Actress' in AfterEllen's Visibility Awards after raves in the cult fave I CAN'T THINK STRAIGHT.
She was recently seen in the HBO documentary EAST OF MAIN STREET: TAKING THE LEAD, USA's DONNY! and the film GRIN (which she also produced) that has been winning awards in the festival circuit including Best Actress. Past TV guest star appearances include BLUE BLOODS, NCIS: LOS ANGELES, ROYAL PAINS, and NIP/TUCK. Sheetal has also been known to lend a voice to many an animated program, most recently guest starring in FAMILY GUY.
Due in part to her unique ability to appeal to a broad audience, Sheetal has represented such brands as Reebok and CHI hair care. She was also the first Indian American to be featured in Maxim. Always an outspoken advocate for women and children, Sheetal grew up very active within the community. She regularly speaks on panels and forums internationally and takes an active interest in politics. She was also selected to serve in President Clinton's AmeriCorps, is currently on the advisory board of Equality Now and is an ambassador for The Representation Project.
Always Anjali is the first book in a children's book series that Sheetal will be authoring and ANOKHI is thrilled to have its global soft launch in Toronto at this event, with a meet and greet & book purchasing and signing opportunity!
Book Synopsis:
When Anjali finally gets the bike of her dreams on her birthday, she and her two best friends are excited to get matching license plates with their names on it. But Anjali can't find her name. To make matters worse, she gets bullied for her 'different' name, and is so upset she demands to change it. When her parents refuse and she is forced to take matters into her own hands, she winds up learning to celebrate who she is and carry her name with pride and power. A timeless story about appreciating what makes us special and honoring our differences.
PHOTO CREDIT
Courtesy of Sheetal Sheth